About paperlantern.com
Founded in 1997, paperlantern.com is a Web design firm. Sara Cormeny, principal of the firm, brings a decade of experience in online media to her work.
paperlantern.com was founded to offer organizations and individuals tailored, elegant, results-oriented websites. No cookie-cutter websites here; all clients receive personalized service and meticulous attention to detail. Each business is unique, and paperlantern.com will help you communicate your distinct message to the right audience, and to the world.
Designing a website that communicates effectively is about color schemes, smart editing, and attractive pictures, and you will be in good hands with paperlantern.com on these fronts. In today's marketplace, an effective website is also about search engine ranking, using email as a marketing tool, and adding up-to-date databases and blogs to your website – and on those counts, too, we're just the experts you want to trust. The paperlantern.com team includes network security experts, database mavens, programming whizzes and graphic design masters, as staff as well as project partners and subcontractors. In short, we provide the best websites money can buy, at prices you can afford.
Do you have a great idea, organization, or product that the world needs to hear more about? Do you want to use the internet to get that message out? paperlantern.com is the web design firm that will help you realize your goals.
About Sara Cormeny
Sara brings expertise in using the Web for marketing and brand development, and strives to create engaging sites that reach consumers and serve the goals of her clients. Prior to forming paperlantern.com in 1997, Sara was an online producer for washingtonpost.com, where she participated in the inauguration of the Washington Post's first news website. She has also worked for the Public Citizen Litigation Group, The Freedom Forum, and KPMG. Sara is a member of DC Webgrrls/Web Women, and the Women's Information Network, which has twice nominated her as a Young Woman of Achievement.
Sara received her undergraduate degree from Brandeis University (Waltham, Mass.), magna cum laude. She keeps business operations and draws most of her clients in her hometown of Washington, DC, and in the beautiful Pacific Northwest city of Portland, Oregon.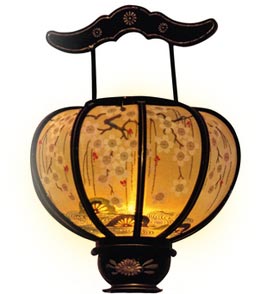 Sara reveals: Why the Name paperlantern.com?
Many people ask me, "why did you call this business 'paperlantern.com'?" If you're wondering the same thing, then this is the section you were looking for.
When I started my business in 1997, I spent a fair amount of time considering what to call the business when the name "paperlantern.com" came to me fairly suddenly. I immediately liked it because:
• Paper lanterns are beautiful, elegant and functional.
• Paper lanterns illuminate things with a soft but steady glow.
• Paper lanterns are understandable, affordable, approachable items.
So for these reasons, the paper lantern embodies my philosophy of web site design and online marketing: it should illuminate your business for your intended audience, it should function well for you, and my job as your consultant is to make sure that the high technology involved should be as easy to understand as any non-technological business tools you deal with.
In short, while the internet is an exciting place full of gizmos and high tech wonders, at the end of the day it's still about communication. In this way it satisfies some of our most basic, low-tech needs, like that lantern!