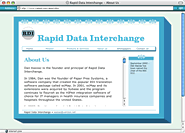 The Challenge: Technology entrepreneur Dan Kazzaz recently embarked on a new venture within the highly specialized field of data standards for computer information exchange. As one of the foremost experts in the technical underpinnings of e-commerce, Dan knew that his site should make him stand out in the pack of companies that provide similar services. He also knew that he could take a chance and break from the mold of cookie-cutter high-tech-service-company websites. So he came to paperlantern.com for a change of pace.
The Solution: What a fun brief for a project! paperlantern.com created a distinctive site with a three-dimensional feel, a real symbol of breaking from the same-old sites. paperlantern.com has also provided editing services, adapting whitepapers that Dan has written on the topic for the broader web audience.
Since this website was launched, Dan has been named chair of the industry's primary workgroup, ASC X12 (congratulations!). The site will continue to evolve as this cutting-edge portion of the e-commerce sector does.
SERVICES: design, maintenance, writing
INDUSTRIES: technology, small business