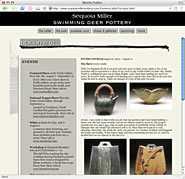 The Challenge: Sequoia Miller is one of the Pacific Northwest's best-known potters, with a national clientele. He needed a website to feature examples of his work, including work for sale, and to disseminate news about his upcoming gallery shows. To save money and to ensure that the site stays up-to-date, Sequoia wanted to make edits and add photos to the site himself, but he needed an easy way to do so.
The Solution: paperlantern.com enjoys working with artists, who bring a strong visual knowledge and sensibility to the task. Sequoia's site uses minimalist graphics for site navigation and structure, with a slightly Asian feel that reflects his aesthetic. The subtlety of the graphics and color scheme allow the photos of Sequoia's work to be the site's main event.
Working with Sequoia's web host, paperlantern.com developed an easy-to-update online database which Sequoia uses to add and manage the contents of the site himself, including posting photos of his work.
The result is a flexible, frequently-updated site that shows this artist's work to its best advantage online.
SERVICES: web design, database development
INDUSTRIES: arts, small business